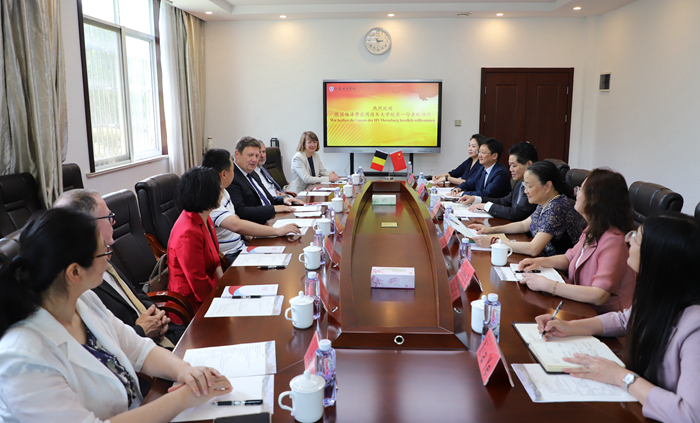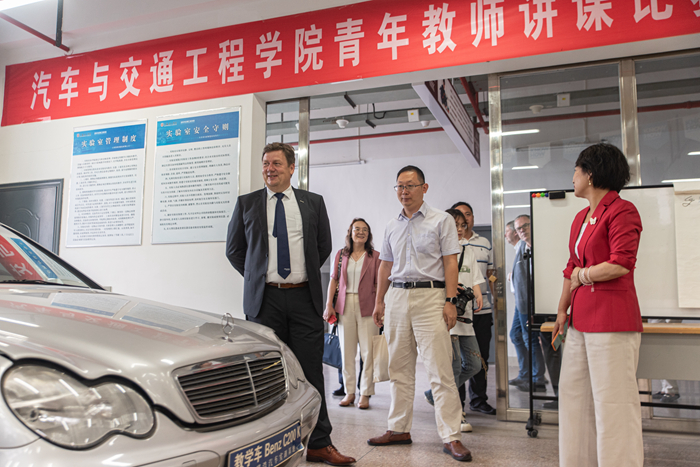 On June 6th, Dr.Markus Krabbes, President of Merseburg University of Applied Science, leading a delegation visited JSUT. Dai Guohong, President of JSUT, Jiang Xinya, Vice President of JSUT met with the visiting guests. Relevant personnel from the School of Mechanical Engineering, School of International Education, and International Cooperation and Exchange Office attended the meeting. The meeting was chaired by Jiang Xinya.
Dai Guohong delivered a welcoming speech on behalf of JSUT. He first expressed sincere welcome to the visit of Professor Krabbes and his delegation, and gave a detailed introduction of the talent cultivation, professional settings, teaching staffs, and new campus construction of JSUT. He pointed out that in the past 20 years, Sino-German cooperation in education has achieved fruitful results, and the program has cultivated high-quality, applied and international talents, promoted the internationalization of the teaching staffs and the integrated development of the university and city. He would look forward to the further interaction and exchange in the future cooperation towards broader fields, deeper cooperation, and higher levels, and jointly serving the economic development of Changzhou.
Krabbes expressed his heartfelt thanks to the warm reception, introduced the new development of Merseburg University of Applied Science in the field of teaching and scientific research, and highly appreciated the efforts to overcome the difficulties during the epidemic to ensure the normal and stable operation of the program. He pointed that neaely 20 years of cooperation have laid a solid foundation for Sino-German cooperation, and look forward to conducting integrated cooperation and exchanges with multi-form and multi-level between the two sides in the future.
At the meeting, both sides also conducted in-depth discussions and exchanges on further expanding Sino-German cooperative programs, developing and sharing teaching resources, jointly cultivating students, and jointly building international cooperative laboratories in the future.
After the meeting, guests from Merseburg University of Applied Science visited the laboratories of School of Automotive and Traffic Engineering and School of Mechanical Engineering, and interacted with teachers and students.