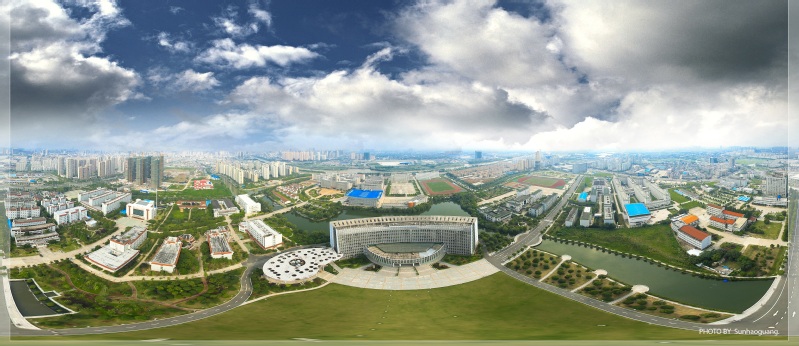 Jiangsu University of Technology (JSUT) was brought into existence as Changzhou Teachers College of Technology in 1984. Situated in Changzhou, the central region of the Yangtze River Delta and also a renowned historical and cultural city in Jiangsu Province, it has become a provincial engineering-oriented undergraduate institution of distinct characteristics with the coordinated multi-disciplinary development of such disciplines as science, economics, management, arts, education, fine arts, and law. It aims to foster both application-oriented undergraduate talents and vocational education teachers along with master's degree graduate training, and won the first-rank achievement of the undergraduate teaching evaluation supplemented by the Ministry of Education in 2008. It is a decision-making and consulting research base of the People's Government of Jiangsu Province, a national key vocational education construction base of teachers training, the research center for vocational and technical education in Jiangsu Province, and the training center for higher vocational education teachers in Jiangsu Province.
JSUT boasts 17 secondary teaching units such as School of Mechanical Engineering, School of Electrical Information Engineering, School of Chemical and Environmental Engineering, and School of Automotive and Traffic Engineering, 5 research institutes like the Vocational Education Research Institute and the Resource Recycling Research Institute, and such industrial institutions as the China Nonferrous Metals Industry Recycling Metals Institute and Hong Kong-China Travel Hotel Management College. It provides 56 undergraduate majors for nearly 18,000 full-time students, and has over 1,200 staff members among which are nearly 900 teachers, with 450-odd holders of senior professional titles and about 900 doctors or masters. Of the teachers, some have received "Government Special Allowance" granted by the State Council, have been honored Excellent Teacher of the Nation, Excellent Teacher of Jiangsu, Model Worker in the Field of Education of Jiangsu, or Model Scientific and Technological Worker of Jiangsu, and over 70 person-times have been honored Outstanding Young and Middle-aged Experts of Jiangsu "333 Advanced Talent-training Project", Six-Type Peak Experts, or Outstanding Young and Middle-aged Experts of Jiangsu "Qinglan Project". Moreover, the university owns more than 80 master supervisors, and has engaged over 100 well-known experts or scholars at home and abroad as honorary, part-time or even full-time professors. Science over 10 years ago, it has conducted "2+2"and "3+1"cultivation programs of international graduates with such higher institutions of learning from different countries as German Merseburg University of Applied Science, and has also contracted with countries like Norway, UK and Germany for the joint training of postgraduates in related fields.
JSUT sticks to the development ideology that "the university owns its unique features, all specialties possess their distinguished particularities, and each student displays his/her own strong points", follows the personnel training principle of "human-orientedness, focus on ability, and sub-type training", and undertakes the fundamental task of morality education to cultivate the high-level application-oriented specialized talents to meet the needs of economic and social development. Since its founding, it has produced more than 50,000 application-oriented senior personnel to serve the local economic and social development, and also trained nearly 10,000 professional teachers for higher or secondary vocational schools. Its students have won more than 900 awards in different science and technology competitions at provincial, ministerial and national levels, among which are the title of "Xiaoping scientific and technological innovation team", the second prize in the "Challenge Cup" National Undergraduate Extracurricular Academic Science and Technology Competition, the silver medal in the "Challenge Cup" National Business Plan Competition, and the first prize in the "Freescale Cup" National Undergraduate Intelligent Car Race, and its graduates have been welcomed by employers, with an employment rate of above 95% for consecutive years.
JUST now owns 1 model institution of national technology transfer, 1 branch of the National University Science Park, 2 national feature construction specialties, 16 provincial brand or key construction specialties, 5 pilot specialty-groups of the provincial excellent engineer education training program, 1 demonstration base for provincial higher education experimental training, 13 provincial university experiment / practice teaching demonstration centers (including construction sites), 2 provincial outstanding teaching teams, 2 provincial teaching masters, and 13 provincial brand or model courses. It also has 3 provincial key (training) disciplines, 2 key construction disciplines, 5 provincial engineering or engineering technology centers and provincial key construction laboratories, 1training base for provincial university philosophy and social science research, 6 key high technology laboratories and engineering technology centers of Changzhou, and more than 40 engineering technology (research) centers with the cooperation of enterprises.
Over the past 5 years, JSUT has undertaken more than 200 provincial and national scientific research projects including the National Science and Technology Support Program, the National Natural Science Foundation of China, and the National Social Science Fund, and has undertaken more than 300 research projects supported by enterprises, with over 100 million yuan (RMB) research funds for projects in hand. It has achieved more than 50 research awards at provincial, ministerial and national levels and more than 170 invention patents, published more than 4,000 articles in domestic and foreign academic journals, among which over 700 were retrieved by SCI and EI and over 300 by CSSCI, and nearly 200 were reproduced by Xinhua Digest or Duplicated Materials by People's University, and also published more than 300 monographs or textbooks.
Till now, JSUT has won plenty of awards and titles such as "Advanced Collective of National Language and Written Work", "National Advanced Unit of Summer Social Practice for College Students", "National Advanced Unit", "Civilization Unit of Jiangsu Province", "Advanced Grass-Roots Party Organization of Jiangsu Province", "Harmonious University of Jiangsu Province", "Advanced University for Teaching Force Construction of Jiangsu Province", "Advanced Collective for Ideological and Political Education among Institutions of Higher Learning of Jiangsu Province", "Advanced Collective for Graduate Employment of Jiangsu Universities", "Demonstration School of College Students Entrepreneurship Education of Jiangsu Province" and "College Students Entrepreneurial Demonstration Base of Jiangsu Province".
At present, all the staff and students of JUST are studying and implementing the spirit of the 18th National Congress of CPC and the Third, Fourth, Fifth, and Sixth Plenary Sessions of the 18th CPC Central Committee and of a series of talks or speeches by the General Secretary Xi Jinping, following the principle of the scientific outlook on development, adhering to the service concept of "basing itself on Jiangsu, radiating across China, orienting itself to economy, and working for society", and trying to be pioneering and innovative, full of scientific development, heart and soul, and strong career-minded so as to develop into a distinctive high-level application-oriented university.