Ⅰ.Introduction to JSUT
Jiangsu University of Technology (JSUT) is situated in Changzhou, Jiangsu Province, a renowned cultural city in the central region of the Yangtze River Delta with over 3,200 years of history and advantageous location of equidistance from Shanghai and Nanjing.Changzhou boasts pleasant climate, booming economy, social stability and harmony, convenient transportation and beautiful living environment. It is named as "National Civilized City" and "The Most Innovative City in China", which provides good atmosphere for study, practice and innovation.
JSUT was brought into existence in 1984 and has developed into a provincial engineering-oriented undergraduate institution with distinct characteristics and coordinated development of multiple disciplines. It was evaluated with the score of Excellence in the undergraduate teaching evaluation implemented by the Ministry of Education. It is also the pilot unit of professional master cultivation for "the Project of Talent Cultivation in the Service of National Special Needs", one of the first National Key Vocational Education Construction Bases of Teachers Training, and one of the decision-making consultation research bases for the People's Government of Jiangsu Province.
JSUT offers 58 undergraduate major in 13 secondary schools and 2 graduate majors for professional master's degree in disciplines of Mechanical Engineering and Environment Engineering.JSUT has several industry institutes and research institutes such as School of New Energy Automobile, School of Medical Equipment, Liu Haisu School of Art, Zhao Yuanren School of Language and Culture Communication, Professional Education Research Institute. JSUT also prides itself on having 2 National Characteristic Majors, MechanicalDesign, Manufacturing & Automatization and Electronic & Information Engineering; 2 Jiangsu Provincial Brand Majors, Automobile Service Engineering and Electronic Information Engineering; and several Jiangsu Provincial Characteristic Majors including Communication Engineering, Computer Science &Technology, Applied Chemistry,Accounting, Education and Art & Design.
JSUT covers an area of 1,500 mu and has over 18,000 full-time undergraduates, over 300 postgraduates and over 140 international students. It has more than 1,400 faculty members among whom about 1,000 are full-time teachers, including one academicianof the Chinese Academy of Sciences, 130 professors, about 380 full-time teachers withdoctoral degrees, and 170 postgraduate and doctoral supervisors. JSUT also boasts well-equipped facilities, beautiful scenery andfavorable study and living environment.
JSUT highlights characteristics of international cooperation and exchange by focusing on the implementation of Sino-German cooperation program and successively establishing cooperation relationship with over 20 universities from Germany, United States, the United Kingdom, South Korea, Ukraine, Israel, Kazakhstan, Macao and Taiwan. Now JSUT enroll international students from over 20 'Belt and Road' countries such as Russia, Morocco, South Africa, Indonesia and etc.
JSUT sticks to the educational ideology of combination of theory and practice in teaching and attaches importance to engineering training and professional practice. JSUT has kept the employment rate of more than 95% for consecutive years.
Ⅱ.Program for International Students
JSUT enrolls full-time undergraduates with 4-year major study. Students will be conferred undergraduate graduation certificate upon completing all the courses and passing exams; Those meeting relevant requirements for the degree can apply for Bachelor's Degree.
(1)Major Taught in Englis
Students of Non-English speaking countries should provide TOEFL or IELTS scores. IELTS is 5.5(or above) or IBT is 70(or above), or equivalent level.
1. Majors Taught in Chinese

Digital Media Technology, Automobile Service Engineering and International Economics & Trade will set up class independently and mainly enroll international students who do not pass HSK4. After studying Chinese for one year and passing HSK4 or above, students can start 4-year major study from the second year. Students of other majors can apply to join Chinese students class. Applicants who have passed HSK4 or above either at entrance or after one-year Chinese study can enter Chinese students first-grade class with ones' own application while passing JSUT Chinese Language Proficiency Test and exams of related major-study schools. Applicants who study art majors are required to have basic art skills.
Ⅲ. Qualification
1.Applicants should be non-Chinese citizens holding valid foreign passports. Besides, applicants should be healthy, have good behaviors, and have no criminal records. Applicants must abide by the law in China and regulations of the university and respect Chinese customs and habits.
2. Applicants should be graduates from senior high schools or above (equals to six-grade of middle school) and get good grades.
3.Applicants generally should be under 25-year-old.
4.Admitted students should enter China with X1 Visa.
Ⅳ.Fees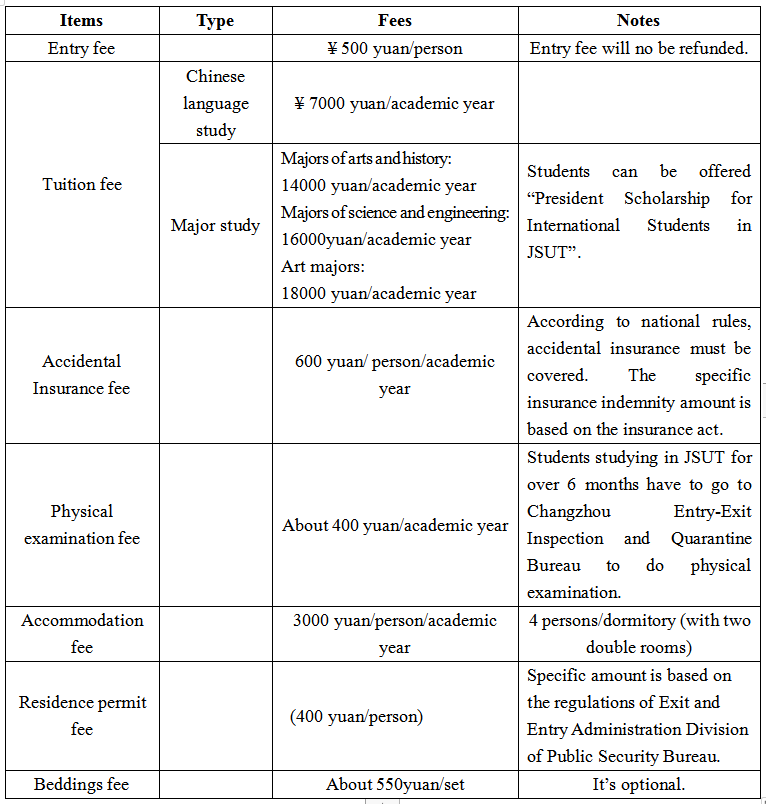 1. Student's dormitory is equipped with bathroom, air conditioner, internet and furniture. Quota management is implemented for electricity and water supply in the dormitory. The electricity and water fees over the quota should be paid by the student.
2. Textbooks fee will be accounted according to the actual use and costs each academic year.
3. The fees for experiments, internship and profession visit, etc. which are beyond the teaching plan will be charged in the light of the actual cost.
Ⅴ.Application Date
Before July 30th, 2019 (The academic year starts in October, 2019)
Ⅵ.Application Documents and Admission
1.The following documents and entry fee should be subscribed by the applicant to School of International Education of JSUT:
(1) The completed Application Form for International Student of JSUT.
(2) Duplicates of passport, secondary school transcript and official certificate of the highest education, together with other relevant certificates. Duplicates of secondary school transcript and official certificate of the highest education must be notarized;
(3) Health certificate and blood test report;
(4) Six passport photos with white background (48mm*33mm);
(5) Certificate of Non-criminal Record issued by the police station. Certificate of non-discipline violation record issued by the secondary school. Transfer students within China should also provide the above mentioned certificates;
(6) International students under 18 years old should provide Letter of Entrustment from parents or guardian. The Letter of Entrustment must be notarized.
(7) Recent Family Income Certificate;
(8) English Proficiency Test Scores (Non-English speaking countries) (English-taught majors students)
2.Accept and check Letter of Pre-admission. Theaccommodation fee is charged by ¥3000 yuan within 2 weeks. Send the scanned copy of remittance receipt indicating name and passport number to tjy@jsut.edu.cn.
3.Admitted students apply for students' visa to China issued by Chinese diplomatic missions abroad with TheInternational Student Confirmation of Enrolment (JW202 form);
4.Admitted students come to JSUT and register within the designated time with Letter of Admission.
Ⅶ. Scholarship
1. TSP Program
The Scholarship of The Launching of Talent Selection Program for Foreign Students to Study in Jiangsu (TSP) aims to serve the Belt and Road construction and launch and cultivate international talents studying in China of national urgent need. Specific policies shall be implemented according to related rules and regulations of Jiangsu province and JSUT. More details may find at http://www.studyinjiangsu.org.
2. Jiangsu Government Scholarship
Jiangsu Provincial Government establishes "Jiangsu Government Scholarship" for excellent international students who apply to undertake degree education in Jiangsu universities and colleges from overseas. Specific policies shall be implemented according to related rules and regulations of Jiangsu province and JSUT. More details may find at http://www.studyinjiangsu.org.
3. President Scholarship for International Students in JSUT
During the period of major study, students recruited through collaborative partners or recommended by cooperative institutions and universities and other excellent senior school graduates can apply for President Scholarship¥7000 yuan/academic yearfor International Students in JSUT.
4. Scholarship for Excellent International Students in JSUT
During the period of students' major study, JSUT provides students with Scholarship for Excellent International Students in JSUT from the second academic year (See the following chart) to encourage them to study harder, to make them rise and to strive for excellence so that their creative spirit and practical ability could be stimulated and cultivated.
Ⅷ.Remittance information (RMB remittance only)
Beneficiary's Name:Jiangsu University of Technology
Beneficiary's Bank :China Construction Bank, Changzhou Zhonglou Branch
Account Number:32001628836052503595
Taxpayer Identification Number:12320000466007247U
Bank Code:105304000465
Ⅸ.Contact
Contact person: Ms. Lin
Email: Linyang@jsut.edu.cn;
Telephone: 0086-519-86953435
Website: http://www.jsut.edu.cn;
Address: School of International Education, JSUT
1801 Zhongwu Road, Changzhou, 213001
Jiangsu Province, People's Republic of China