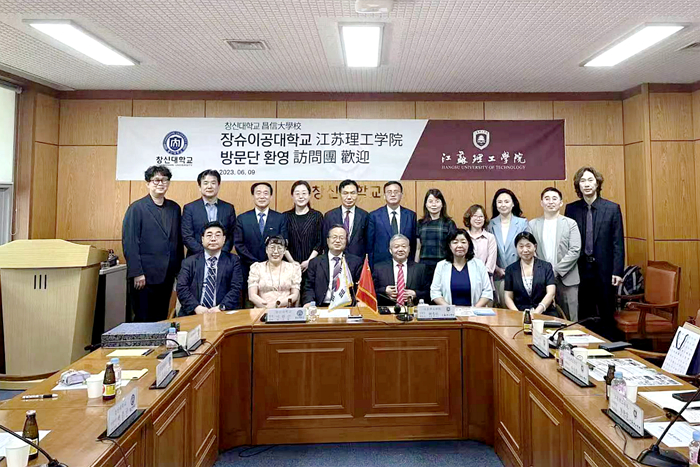 Recently, Vice President Xie Zhongqiu leading a delegation visited Changshin University, Soongsil University and Yonsei University.
Professor Li Yuangen, President of Changshin University warmly welcomeed JSUT delegation, and introduced in detail the history and current situation of Changshin University and the contributions to the internationalization of education, cultural exchanges between China and South Korea, and the cultivation of foreign students. He hoped JSUT students can study in Changshin University in the future to promote educational interaction and cultural exchanges between Chinese and Korean universities. Xie Zhongqiu highly praised the excellent academic conditions and international perspective of Changshin University. He introduced the characteristics, disciplines, and international cooperation projects of JSUT, hoping that the two universities can fully leverage THE educational advantages, carry out practical cooperation, and achieve mutual benefit and win-win results. The delegation also visited the campus and library of Changshin University.
At Soongsil University, JSUT delegation held friendly talks with Park Ju Yeong, director of the international exchange office of Soongsil University. The two sides conducted in-depth discussions on the joint construction of overseas Korean language internship bases, master's degrees joint programs and the exchange of teachers between the two univeristies. At the meeting, both sides reached an agreement on cooperation between the universities.
JSUT delegation also visited the famous private research comprehensive university - Yonsei University, visited the student innovation and entrepreneurship base in Yuanzhou Campus of Yonsei University, and interacted with the head of the International Exchange Office of Yuanzhou Campus and Chinese students studying in South Korea.
This visit deepened the understanding of the education system of Korean universities, promoted the cooperative relationship between JSUT and Korean universities, and built a larger platform for further international cooperation and exchanges as well as teacher-student exchanges.